Spy whatsApp without using spy application, how to hack whatsapp, how spy boyfriend or girlfriend's WhatsApp message, spywives or husbandsWhatsApp message, these are some question that often arises out from a number of whatsapp users, and i think we're all know the reason why some people want to spy whatsapp
so, let see whether whatsapp can be spy on?
Before explaining further about how to spy whatsapp without an spy application help, there is an important thing you need to know about how far the level of security of whatsapp to protect user privacy, how tight whatsapp security system to ensure that sent or received messages by the users is protected and Make sure there is no loopholes for someone to try to attempting to spy on.
See to the pic, there is notification "Message to this chat and calls are no secured with end-to-end encryption"
In other words, whatsapp themselves and other second parties can not spy on whatsapp, because whatsap is protected by the end-to-end encryption system, the meaning is the messages and calls can only be read and heard by the sender and recipient.
Then, how about some of applications that said they can spy on whatsapp? Read the following explanation:
There is a Technique to spy whatsapp but may only be done in one way, and can only be done by professionals hacker.
Information taken from various sources including from news that whatsapp message may only be hacked by exploiting loopholes on the SS7 network.
The SS7 network is a telecommunication protocol currently used by telecommunication providers around the world for interconnection, the weakness of SS7 is a secret that has been known for a long time by hackers, intelligence organizations and information technology actors who focus on cyber security.
SS7 attacks, how it work?
hacker will exploit the security hole SS7, then he will make the network provider thinks that his mobile phone has same number as the target. After that, he simply create a new account WhatsApp by using the target number.
then, he waiting for the secret code that send by sms to activate the target WhatsApp account, finally he can spy on whatsapp very freely.
The end-to-end encryption feature of WhatsApp generally provides strong protection. This is because the key to decrypt lies on each user's account. spy against encrypted communications may still possible be done by "the man in the middle attack" technique, but the data that has been taken successfully has been encrypted so it will be very difficult to read because it is in code, it may take for years to decode the code.
From the information that has been described above it can be concluded to spy on whatsapp is not as easy as we expect, SS7 security is vulnerable to serve as the entrance to spy, but it can only be done by professional hackers with above-average ability level
The security hole in SS7 up to now cannot be repaired on the grounds that the gap is too complex so it is very difficult to repair.
Whatsapp has many features and there is one feature that we can use to spy on whatsapp, the feature is "whatsapp web"
Whatsapp web is use to open whatsapp account via web browser, such google chrome browser etc.
This allows you to be able to use whatsapp from computer and you no need to log out from whatsapp account on your android, so you can run whatsapp on both device.
What you need to do to spy on whatsapp using whatsapp web feature is:
1. make sure your target phone is with you, the time you need in this process maybe about 2 minutes.
2. Make sure your phone and his/her phone connected to the internet
Do this on your phone
1. Run Google chrome
2. Go to Google chrome setting (tap on 3 dot on top right your chrome)
3. checklist on  "Request desktop site"

4. go to web.whatsapp.com and standby for scan barcode
Do this on his/her phone
1. Run whatsapp
2. Go to whatsapp setting ( tap on 3 dot on top right)
3. Tap on "whatsapp web"  and klik "ok"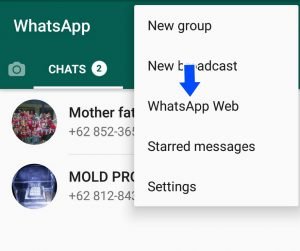 4. Now, scan the whatsapp barcode, done.
The whatsapp web has been actived, now you can spy on his/her whatsapp.
As long as he/she doesn't deactived whatsapp web feature you still able to spy on, but when whatsapp web is deactived the google browser will go back to whatsapp barcode page.
problems
– there is a notification that comes up when whatsapp the web is enabled, this is a big problem because you can not delete or hide notifications as long as the phone is connected to the internet.
to solve this problem you have to install whatsapp to older version on his/her phone, you can use Whatsapp ver 2.17.296 to avoid notification comes up when whatsapp web enabled
Download whatsapp ver 2.17.296 apk
Before install whatapp ver 2.17.296 apk, first step make sure to disable auto update on playstore.
Run playstore, go to settings, go to auto-update apps, checklist on "do not auto-update apps".
sorry guys i'm no good in writing in english, but i have been try my best, i hope you get my point.